Text
Associate professor, Faculty of Medicine, University of Iceland
Assistant professor of pediatrics and genetics, Johns Hopkins School of Medicine
Assistant residency program director, Clinical Genetics, Johns Hopkins SOM
Director of Epigenetics and Chromatin Clinic, Johns Hopkins SOM
Contact: 
hanstb@landspitali.is
Location: 
Læknagarður, Vatnsmýrarvegi 16, 101 Reykjavik, Iceland and 733 N. Broadway, Miller Research Building 415, Baltimore, MD 21205, USA
RESEARCH PROFILE - PUBLICATION
(work in progress)
Image
Image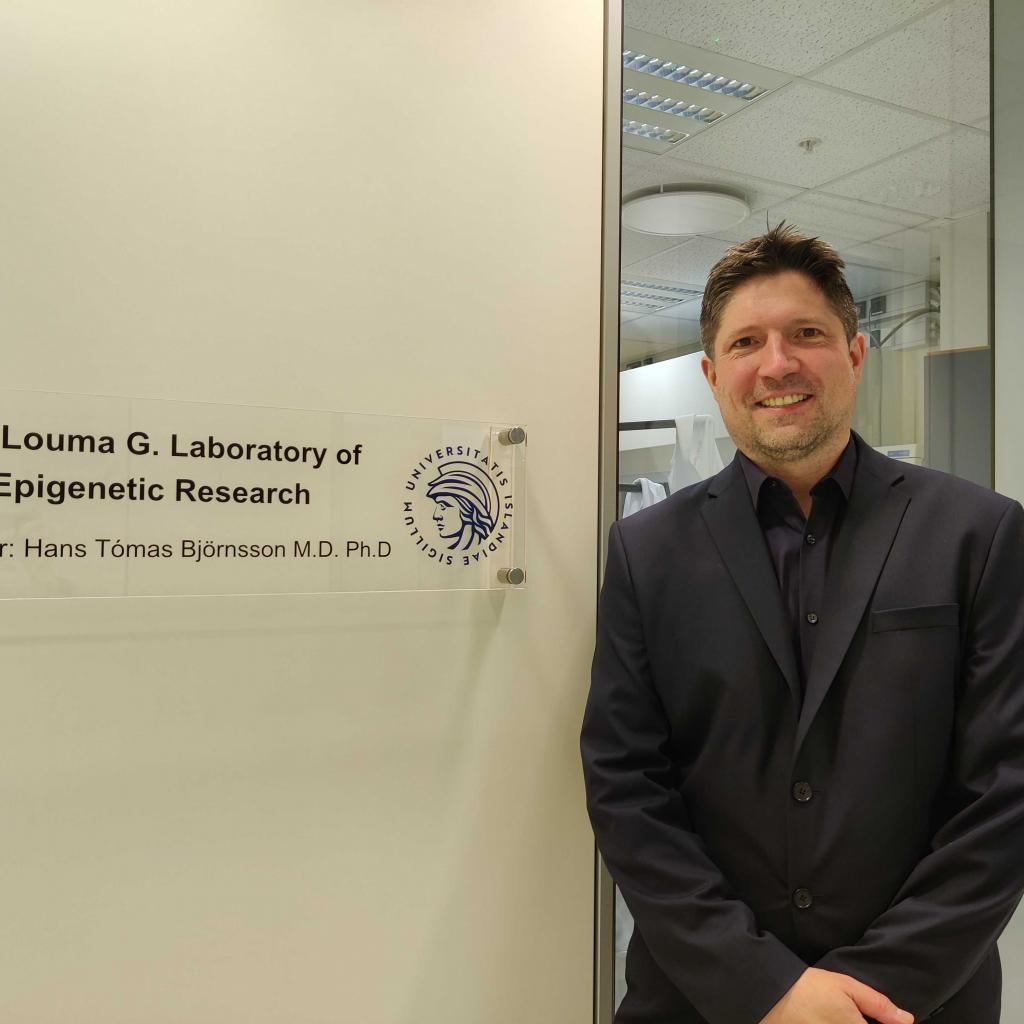 Hans Tomas Bjornsson received his medical degree from the University of Iceland. Dr. Bjornsson then received a Ph.D. degree in human genetics from the predoctoral program in genetics at Johns Hopkins, followed by combined clinical training in pediatrics and clinical genetics at Johns Hopkins. Dr. Bjornsson joined the faculty at the McKusick-Nathans Institute of Genetic Medicine and the Department of Pediatrics in 2012, where he runs a clinic dedicated to patients with imprinting disorders and Mendelian disorders of the epigenetic machinery (Epigenetic and Chromatin Clinic).
Dr. Bjornsson joined the Biomedical center at the University of Iceland in 2016. Dr. Bjornsson has received numerous awards for both clinical care and scientific work, including the Frank Coulson, Jr. Award for Clinical Excellence (2012), an NIH director's Early Independence Award (2013), the Sir William Osler Young Investigator Award from the Interurban Clinical Club (2014) and the William K. Bowes Jr. Award in Medical Genetics (2014).
Our research laboratory (located in Iceland and Baltimore) focuses on understanding how disruption of epigenetic modifications leads to disease states and exploring whether manipulation of epigenetic modifications can rescue some of these disease states.
We do this by:
1) Study of the Mendelian disorders of the Epigenetic machinery;
2) Detailed study of samples from patients and mouse models of model Mendelian disorders of the epigenetic machinery (Kabuki syndrome, Rubinstein-Taybi syndrome, Wiedemann-Steiner syndrome and Pilarowski-Bjornsson syndrome);
3) Study of the entire set of human epigenetic components (295 components that play a role in maintaining epigenetic modifications);
4) Study of novel therapeutic approaches for other neurological diseases such as hereditary cystatin C amyloid angiopathy.